About iFlowCO2
_____________________________
CO² and photosynthesis
Plant growth is based on a few factors, of which the CO2 level is an important one. In its process of photosynthesis, the plant converts sunlight, water and CO2 into the carbohydrates it needs. CO2 deficiencies often result in restricted growth, especially common in indoor grow situations with artificial lighting. An optimized CO2 level will grow bigger plants and generate bigger yields.
Very easy to use
Just secure your iFlow CO2 into the growing environment and it will do its job continuously, 24/7 for 30 weeks without maintenance or refill. As CO2 molecules are slightly heavier than O2 molecules, the result will be best when the iFlow CO2 is placed just above your plants. With the reusable Velcro fastening system you can place it practically anywhere. You can even attach one below the other.
How does it function
iFlow CO2 is a 100% ecological and bio-certified natural substrate of small wood snipes, inoculated with a non-fruiting mycelium. While the mycelium grows into the substrate it generates CO2, which is being exhaled into the growing environment via the microporous breather patch.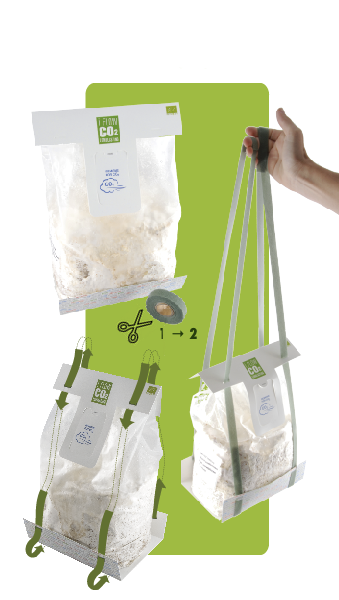 OUR BRANDS
_____________________________
The Eazy Plug System is a natural and sustainable, breakthrough growth solution for propagating and growing all of your plants.
Get in touch with us and find out what we can do for you!
Eazy Plug
Tijvoortsebaan 2,
5051 HJ  Goirle,
the Netherlands
How can we help you? Fill out the form and we'll respond as soon as we can.